Love on Tour: Harry Styles Concert Review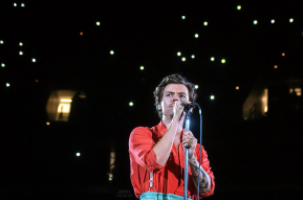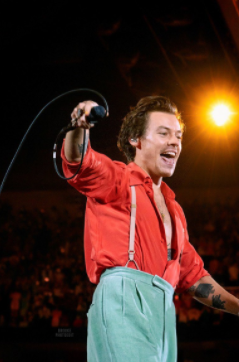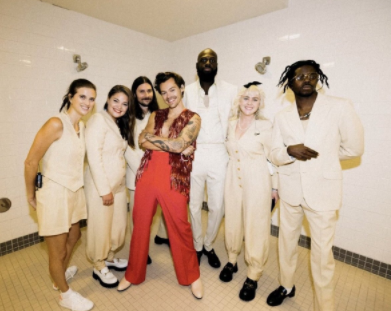 A colorful rainbow of warm welcoming people with packed lines and parked cars of the sold-out arena gathered to the triumphant return of Harry Styles. The pop-rock star that started in 2012 with the boy band One Direction on X-Factor. Due to the demand for Love On Tour Styles' second tour, the majority of shows were sold out, he opened a pre merch sale the day before each show for purchasing early merchandise or if you couldn't get tickets you can still get a souvenir.  Premerch started at noon at Rocket Mortgage Field House. Selling new t-shirts, water bottles, and tote bags. Some with bunnies on them that symbolize good luck to the people in Britain. In classic Cleveland weather 30 minutes into the line, the wind picked up and it started hailing. But it added to the experience and in the line, we all still felt connected and comforted under umbrellas bonding over the man that helped us through tough times. 
Harry Styles has become a fashion icon. From being the first solo man on the cover of Vogue rocking a dress, to all of his red carpet outfits which once in a full blue moon consisting of a black suit. So, his fans follow in his footsteps wearing their best clothes, leather jackets, handmade outfits, bell bottoms, and 70s-inspired outfits. Some went the more comedic route wearing watermelon, cherry, or banana costumes in honor of his first Grammy-winning hit song Watermelon Sugar. Attendees treated this as a place to show their personality in a safe, comforting environment. Walking down the halls of Rocket Mortgage you will find a plethora of feathers from boas and glitter sequins with the sound of clinking shoes. 
The opener was Jenny Lewis, an indie artist that has a 70's vibe with her incredible band to warm up the crowd. With every song, you just wanted to stand and sway around with your flashlight on. While the band gets ready on stage, Mr. Styles is getting rolled out under the circle stage that faces all ends of the crowd, so no matter your seat you will see him. Opening with 'Golden' the energy in the stadium was something I've never experienced before. The whole audience danced and screamed the lyrics that we all have wanted to sing for years to crying on our friend's shoulders during his first song as a solo artist, Sign Of The Times. 
"Please feel free to be whoever it is you want to be in this room tonight. Please feel free to be however it is you've always wanted to be and I challenge you to have as much fun as I'm going to have," Styles said between songs.
In that audience, you feel the safest and comforted by his energy. Everyone danced around waving pride flags and Black Lives Matter flags to show love to everyone. 
Harry wore the classic 'Fine Line' cover outfit;  Wide leg teal corduroy flares. A pink loose button-down and suspenders.  His setlist consisted of his full sophomore album (Fine Line) and five hit songs from his first solo album. Then, decided to sing 'What Makes You Beautiful' One Direction's first hit single. 
The band has all the energy in the world dancing and jumping, living the dream, to the guitar riffs and backing vocals that are out of this world. Three of his band members from the last tour joined him again. Drummer Sarah Jones and Guitarist Mitch Rowland are the star couple of the band who recently had their first child. Nyoh is back on piano and vocals, Niji Adeleye playing piano, Elin Sandberg on bass guitar, and Pauli the PSM on percussion who steals the show with his dancing and wild energy. 
By the end of the concert, audience members left with red smudged mascara eyes, frizzy hair, ringing ears, and scratchy voices walking out of the venue seeing everyone realize they got to see their idol live in a sea of rainbow boas, feeling euphoric. 
Even if you haven't listened to every Harry Styles song you will have an extraordinary time rocking with the 27-year-old rock-pop star.