Kal&Pal: Unwrapped: A History of Kal and Pal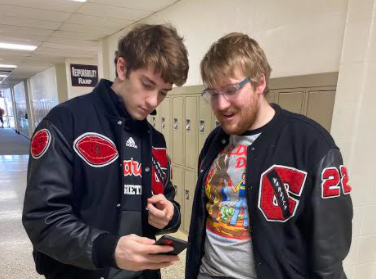 After a breakout rookie season for the hosts of the popular podcast Kal and Pal, Cody Palovich and Zach Kalis are ready to soon start season two with a lot of new ideas. They had a great first season with many guests like All-Ohio football players Sean Carr, Nathanael Sulka, and Alex Henry of the Chardon Hilltoppers. Lots of laughs were had and there were many loyal fans excited to tune in every Tuesday night at 10 P.M.
The two hosts came out with 11 podcasts averaging about 30 minutes long, in which they packed the whole podcast with content that kept people coming back. As new podcast hosts, many people can agree that Kal&Pal have swagger and know how to run a podcast. When it comes to Cody Palovich, he is a comical and sweet guy that grows on people very easily, as for Zach Kalis he has a great sense of humor and a great personality. These two together make for a great podcast that people tune in to listen to each week.
"At first it was to get out of class and then Zach and I started to really enjoy making them," Palovich explains when asked about the beginning of Kal and Pal. Both became great friends through Mr. Lichtinger's newspaper class their Junior year and working together at Chardon Lakes golf course. Besides running an enjoyable podcast, the two both love sports and bond over movies and franchises like the Marvel Universe. 
"When these two come together it is always a fun time." says Greg Fronk, a beloved teacher at Chardon High School. 
"Before Kal & Pal, life was gloomy, but since Kal & Pal has come out life has been a giant rainbow!" states Chardon's Crazy Captain Kyle Maronde.
"It is very good but it would be better if I was in it." Dominic Del Zoppo says as he takes off his sweatshirt unveiling a Kal & Pal t-shirt. 
Many of these Chardon high school students enjoy tuning in to watch these two podcast hosts because of their original personalities and interesting topics every week. 
Zach and Cody were skeptical about starting a podcast, but once they started being themselves and bringing other people onto their podcast they were an immediate hit around the school. Hilarious episodes with Nathanael Sulka, a Division One football player, and part-time comedian, made everyone around Chardon aware of the potential of Kal & Pal. 
A huge future is ahead of the two. As long as they keep making new podcasts every week their fanbase should continue to grow around the school and maybe even further!