Chardon High School Production of Puffs
The fall production of "Puffs" at Chardon High School is sure to please everyone, regardless of whatever Hogwarts house they belong to. A parody based on J.K. Rowling's beloved "Harry Potter" books, the play unites all houses and features an engaging spin-off performance that goes into great detail on three members of the Puff House. The actors are more than prepared to amuse the audience with a fresh and comical take on the well-known book series after extensive rehearsals leading up to opening night on Thursday, November 10.
The story of "Harry Potter" follows a wizard named Harry who goes to a school of Witchcraft and Wizardry. This show, however, is not his story. This is the story of the Puffs….who just happened to be there too, although never destined to save the world.
Three young wizards from quite different backgrounds who were selected to be students at Hogwarts are followed throughout the story. The Puff house, the joke of all the houses, is assigned to all three wizards. Through the house cup competitions, they aim to restore the house's reputation. The three wizards had the goal of finishing third rather than their usual fourth in the competition. They get shot back down just when things appear to be going their way, but they keep trying. The Dark Lord has risen once more and is seeking a special agent to carry out his orders while the Puffs are attempting to score points. The Puffs join the fight against the dark lord and his ally when everything looks lost and the school is in danger of collapsing. The Puffs continue to work for points to prove their worth. 
"I thought it was so funny especially if you know the "Harry Potter" storyline. The actors were amazing, especially the ones that played multiple characters. McKenna Hagan played over 6 characters and they were all original and hilarious. Definitely a show worth going to," said Carley Gutka, an audience member.
Senior Jeremy Kosir played both Cedric and Mr. Voldy. "Puffs" was Kosir's first play.
"It was the first play I've done, and I was told that this play is a lot different than other plays since there are so many scene changes and costume changes; it was definitely daunting. I had a ton of fun playing my roles as Cedric and Voldy. I like Cedric because I didn't have to learn too many lines, but was still influential to the story. Voldy was fun because he's the main antagonist and I get my whole speech towards the end where I'm in the audience." Said Kosir. 
Kosir shared that his castmates were very welcoming and considerate as it was his first time learning lines and performing on a stage. 
"I met a lot of people and that was great. Everyone was extremely nice and upbringing throughout the process of learning the flow of the play. Over time everyone sort of meshed together as a whole to get the play on its feet which I thought was awesome, especially for my first play and messing up lines and whatnot, no one blamed me and just told me that I'd get it next time." Said Kosir.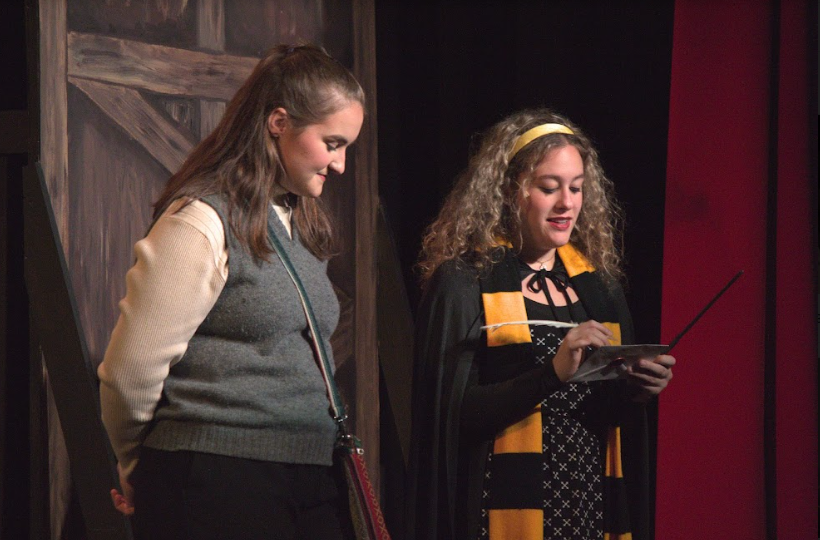 Senior Grace George who played one of the lead roles, Megan Jones had a very heartwarming experience with her castmates, as she was not originally cast to play that role. 
"As a person who's been in theater most of their life, being a senior in the drama club is a pretty emotional experience. You want your last production to be great but there are always bumps in the road. This play, Puffs, was rough. There was a new director and a lot of different kids from different backgrounds. I guess that's what makes it so great though. You meet new people every year and you continue to work with past castmates as well," said George
George recalled that she had learned the entire role and how to assume her character in just three days, but it had never truly occurred to her until after opening night.
"When I got into the play, I was actually a part of the ensemble. During tech week, the week before the show, I had to step up as an understudy and become a lead role. I knew most of the lines but in terms of blocking scenes, I didn't know where I was supposed to be. I think after opening night I finally realized that I practically learned most of the role in three days." Said, George
George talked about her amazing castmates who supported her through the tough journey of getting the show where it needed to be.
"I didn't think much about it until I was showered with love from the cast and crew. They all signed a card and gave me flowers thanking me for 'slaying Megan Jones.' We really are like family. We all love each other and we all love to yell at each other," George said.
Audience members were surprised to find out that George had learned the role in such little time, as she had performed it so well. 
"Grace George deserves all the credit she can get because she picked the main character role up so quickly and she did so well," said Cece Crowley, an audience member. 
Chardon's performance of "Puffs" is sure to give a good laugh and had such a tough backstory which brought the cast and crew together and closer than they ever could have been.