Archery Royalty: The Who's Who of the Sport
As the weather gets warmer and the professionals return to dominate the podiums in tournaments. All of them participate in some sort of national events including NFAA (National Field Archery Association), IBO (International Bowhunters Organization), ASA (Archery Shooters Association), etc. Many of them are committed archers and use archery as their profession. They put a lot of time and effort into preparing for the tournaments almost every weekend. Preparing for tournament season is a year-long process for professional archers, and they all have different training methods. 
North Carolians, Sharon and Jack Wallace II are one of a few power couples in the archery community. Sharon has been shooting professionally for 13 years; Jack has been doing archery since he was 7 years old with the help of his father and turned professional about 27 years ago. The Wallace's usually compete in both indoor and outdoor tournaments.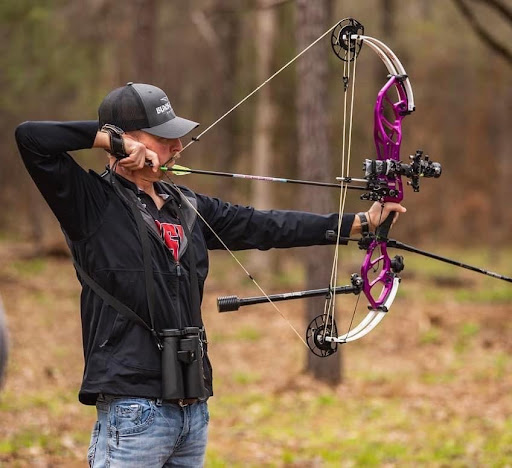 "Other than Sharon, I am very self-motivated and push and drive myself to try and be the best I can, especially for the sponsors that believe in us," said Jack.
They mostly travel together to all of the events. Both Sharon and Jack start getting serious in the late fall, which means both of them are practicing indoors and outdoors. They are fortunate to live in North Carolina so they mostly have great weather.
"Physically for a tournament, I like to shoot a full 20 target round five days per week," said Jack, "Leading up to the shoot, I like to do light full-body workouts three days a week to keep strength and flexibility up for the season. I will also normally eat less at home cutting some calories, carbs, and sugars until I get to a tournament location, and then I will normally take in more calories, carbohydrates, and salt to help me feel stronger and get through the weekend travels and competitions."
Sharon and Jack are also very fortunate to have a bunch of 3D targets to shoot to practice on and the cooperation of Carolina's weather for all of these tournaments. Jack gives out in-person seminars and "help sessions" for anyone interested in paying for it and learning more about archery. But here's some free advice from Jack Wallace, "I would tell anyone new to the sport to read as much as you can. Get good information from top-notch shooters. Most importantly, get fit for your equipment and learn the proper repeatable form from a good coach or teacher and you will excel faster than you think!"
Utahan Tim Gillingham usually participates in NFAA, ASA, and the IBO Triple Crown events. He was 14 years old when he started archery and has been shooting for the past 38 years since then. Gillingham always has a crazy setup on his bow, especially with his stabilizers, which reduce vibration when the archer releases an arrow and stabilizes the bow by increasing its inertia. 
"I'm just always looking for a way to hold steadier," said Gillingham about his bow setup.
He holds like a rock with all of his stabilizers. They may look silly but he says that they help a lot. Providing for his family drives him to do his best in a tournament. He also tries to keep his cool while he's on the course. "I just try to be patient and give each 12 a 100% effort," said Gillingham.
Paige Pearce from California started archery when she was 18 months old. Both of her parents were sponsored archers and they didn't have a babysitter for her, so Pearce went along with them to all of their events. In column 2girls Hunting interview from womensoutdoornews.com, she says, "It just felt natural to be on the course as I grew up."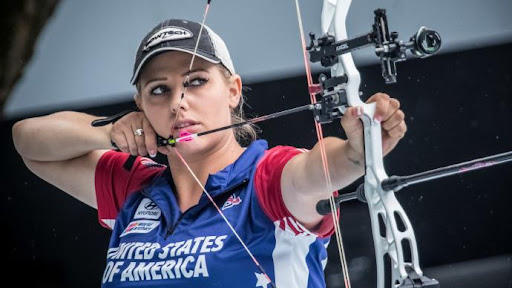 She's broken 110 state, national, and world records since her early start. Pearce was the youngest person to go to the World Championships at the age of 13 years old. She competes at all levels including; state, national, and world events. She almost always makes the podium at these events. Her strong suit is normally indoor tournaments but she's trying ASA this season and has been on the podium for the past three ASA events.
Cara Kelly of Michigan took up archery for fun at the young age of 3 years old. Kelly began competing in tournaments at the age of 5 and took on her first national tournament at the age of 10. She has been doing archery for 33 years.
"Turned professional when I was 18 right out of high school," said Kelly, "Decided to shoot pro, go to college full-time, work part-time and let me tell you it was a rough couple of years but it made me work harder and now I'm 36 and have been a pro for 18 years."
Kelly is primarily a 3D shooter who will be attending all ASA and IBO competitions but also enjoys competing in indoor events such as the Lancaster Classic and NFAA Indoor Nationals. Her biggest motivator is herself: Kelly says that she wants to be the best version of herself. "It didn't matter if I was shooting the cub class or shooting pro, I have always been driven to work extra hard and do whatever it would take to feel confident and ready mentally and physically," said Kelly. "Zero doubts in my head, I was going to win."
She likes seeing new archers start the sport. Her advice for newcomers: "You determine your own destiny. Love it or don't do it. No one can drive you to be successful. You want to win? Put in the time, effort, and sit back and enjoy the ride."
Brady Ellison from Arizona is a USA Olympic archer and shoots an Olympic recurve, usually used in the Olympics. None of the fancy compound bows with all types of equipment are allowed in the Olympics, at least not yet.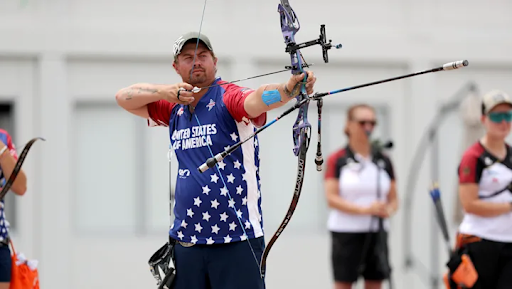 He might just be the most known archer to people who don't know about ASA, IBO, or NFAA events since Ellison participates in the Olympics which is televised more than the rest of the events. 
When Ellison was just a child, he had to fight complications from Perthes Disease, a disorder of the hip in young children that usually occurs between the ages of 4 and 10, putting off surgery for 9 months so that he could compete in the 2008 Beijing Olympics. At 33 years old, Ellison currently holds the record for the longest continuous period as the world's number-one-ranked men's recurve archer, from August 2011 to April 2013.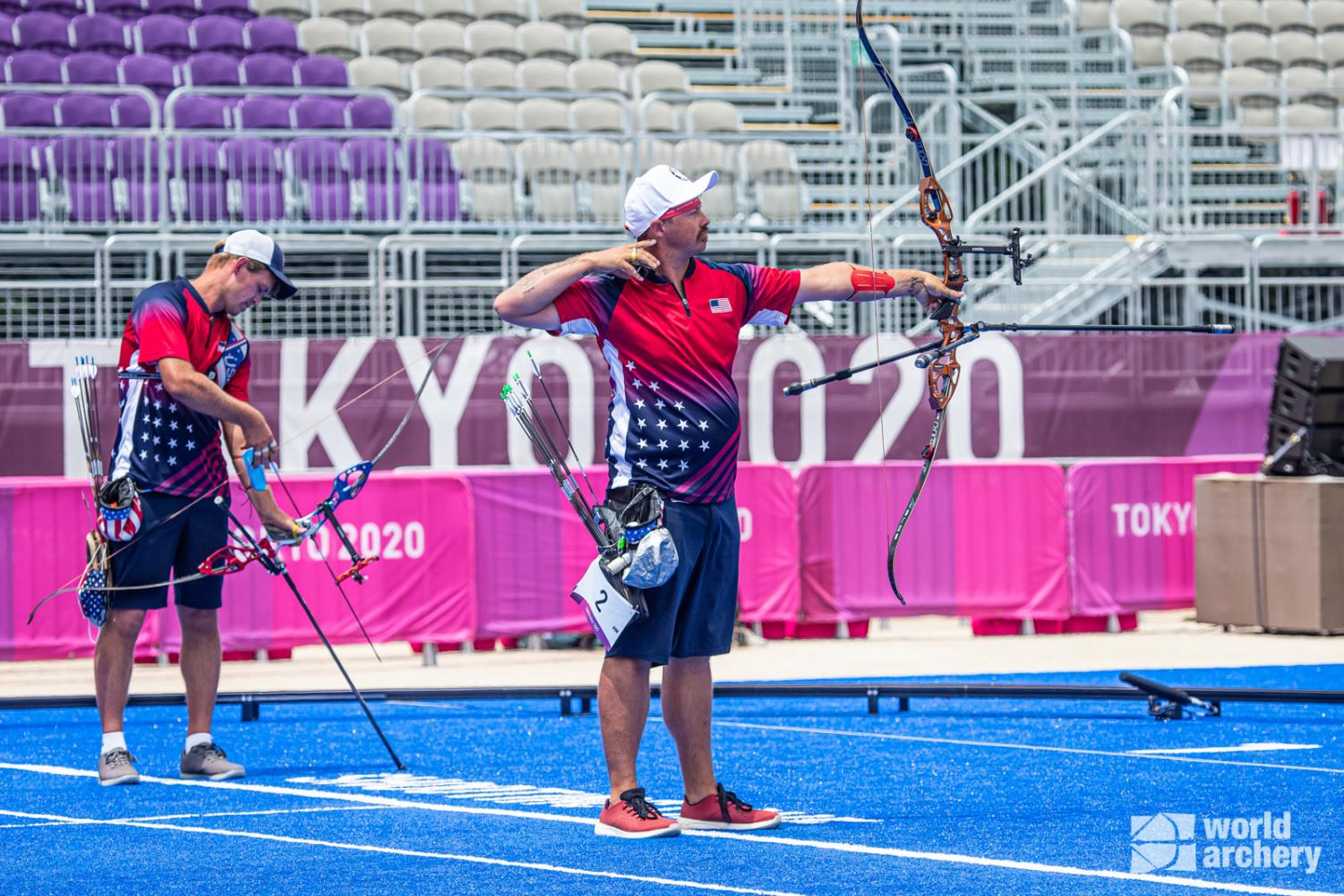 He is a 4-time US Olympian who brought home 3 medals, a Team silver from the 2016 Rio games, an individual bronze medal from the 2016 Rio games, and a bronze medal from the 2012 London.
Want to get involved? Find your local archery store and express your interest in archery. They will be more than happy to help you get all setup and possibly give you lessons. If you just want to try archery, you are more than welcome to come to a local club during their monthly events like Geauga Bowmen. You can find them on Facebook, just show up and ask for a bow to use, and they'll give you a few tips and send you on your way. Tons of videos and information about archery are available online as well if you're not interested in actually participating. Spectators are allowed but aren't usually on the course since there isn't a lot of room in the courses. Tons of websites are available to view if you're interested in learning more.