Archery Potlucks at Ohio Premier Archery and Sports
It's a snowy Wednesday night and you drive into Middlefield to go shoot some paper targets. You just want to go clear your head while putting arrows in a target. You then find out there's a delicious variety of food afterward, with different themes weekly that makes you want to keep coming back for a variety of food. Many of the foods reflect the person's personality; the smoked foods and the unhealthy foods were brought by the self-identified hillbillies of the group. The people who've brought desserts have a sweet tooth. This is how Ohio Premier Archery and Sports builds community in this stressful time. About 20 archers, ranging from 13 to 60 years old,  come together to eat and shoot some arrows in a little plaza in Middlefield. 
Many of these people have been a part of Ohio Premer Archery and Sports for a little while. There are a few people who stand out incredibly; Rachel Flack, Joey Nicolosi, Bob Hajek, and Lydia Hajek. Flack has been shooting for a little over a year and she makes desserts. Nicolosi is a new face seen around Ohio Premier Archery and Sports, "archery is just a long-time hobby passion of mine," says Nicolosi.

He started getting back into archery after the series of brain surgeries he has gone through. "My first week was my favorite, probably one of my favorites." He also said, "I liked all the cliques and how everyone got together."
Nicolosi says everyone got along and no one feels left out. The Hajek's are foundational to the themed potluck dinners, they both make some delicious food. Both Lydia and Bob love to cook. They both talked about how nice it is that everyone can get together and share these dishes with others. Bob loves to smoke and grill meats; Lydia loves to bake. Lydia was asked what her favorite dessert to make was. "I love making homemade brownies and cheesecake," said Lydia.
Father and son, Gary and Luke Ostoyic purchased the former Geauga Bow and Outdoor Sports and opened Ohio Premier Archery and Sports in early 2020. They started having leagues that fall, which have continued due to their run-away popularity. OPAS has leagues Tuesday through Thursday and Saturday, which start the second week of January and go on for eight weeks. One of those leagues is the Wednesday night Vegas League, where a three-dotted triangle target is shot 45 times. The archers started the potluck dinners last year and now it stuck. Everyone was looking forward to the food throughout the league. 
The first week, which was the third week in January, the theme was Appetizers. Everyone thought alike and brought meatballs, in flavors like barbecue, sweet and sour, and Hawaiian. Someone also brought pizza cups. Dessert was s'mores brought by Rachel Flack; it's not your traditional s'mores though: two graham crackers with marshmallow fluff and half dipped in chocolate. These s'mores are very popular in this league. Rachel usually brings desserts, which everyone seems to like.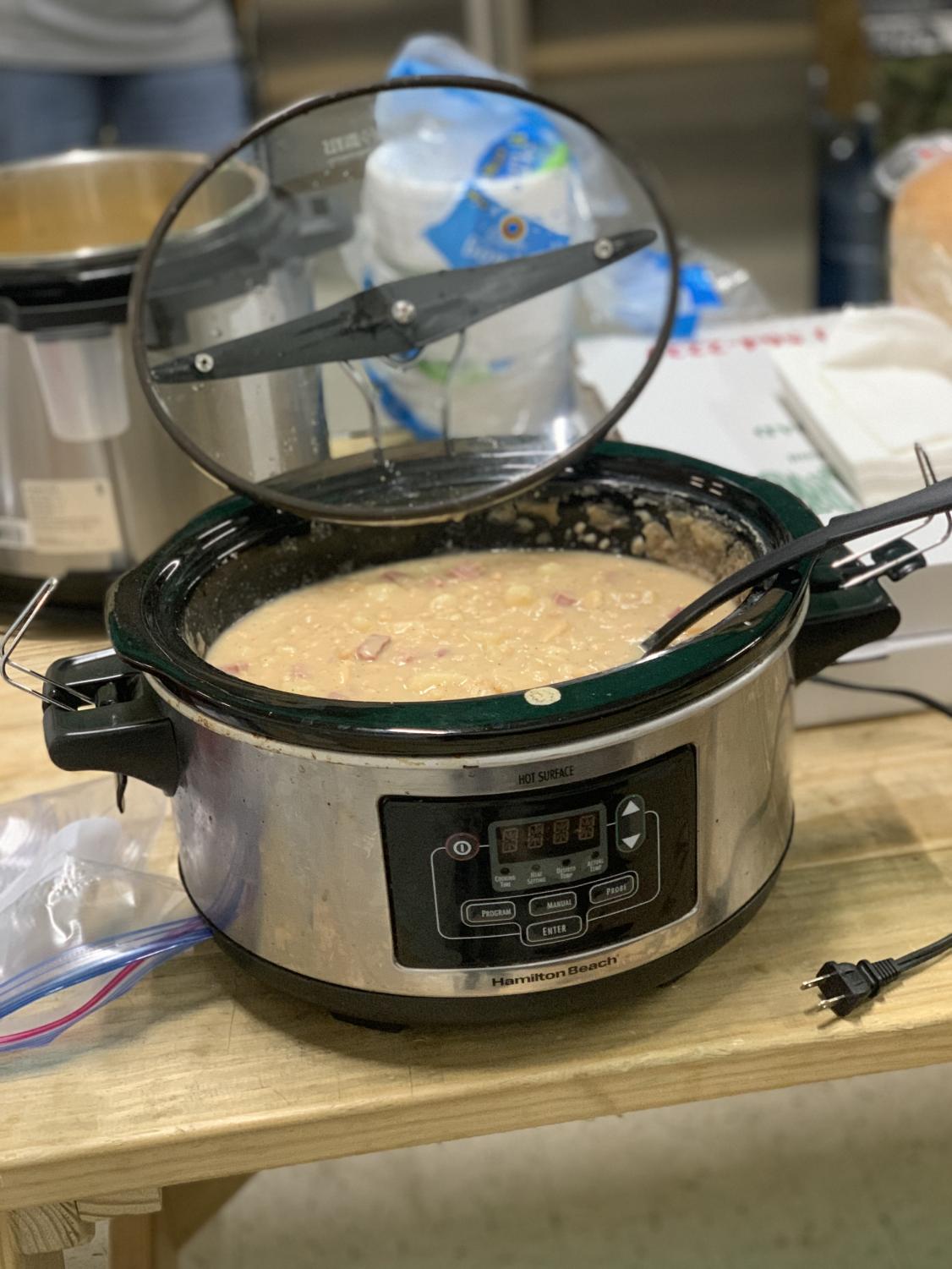 The second week's theme was soup and salad although the salad was largely forgotten. Do you see a pattern? There were 4 kinds of soup. For example, there were two different potato soups, one with just potato and ham with chicken stock and veggies, and one with potato, ham, veggies, dumplings, and beans. The two other soups were an Italian Wedding soup and an Unstuffed Pepper soup. The Italian Wedding soup had a little pasta called Acini Di Pepe, which made the texture of the soup thicker. The Unstuffed Pepper soup was just everything in stuffed peppers but in soup form and had spicy sausage in it. Someone brought sweet cornbread with sweet corn in it. There were also two pizzas available if someone wanted something else other than soup. Flack continued her streak of bringing her non-traditional treats. "My favorite dessert I've made is the cookie pudding, the s'mores are just too complicated," Flack said. 
A chocolate chip cookie on the bottom and pudding on top, half had an oreo topping and the other had a chocolate chip and marshmallow fluff topping. "The cookie pudding was also my favorite in the first four weeks," Flack says.
The third week's theme was Tailgate. Dishes included hotdogs and sausages with sauerkraut as the main courses. There were condiments available like ketchup, mustard, ballpark mustard (brown mustard), and relish. Pasta salad, caesar salad, and baked beans as the sides. The pasta salad had little chunks of cheese, carrots, celery, and pasta noodles. The Caesar salad was just a regular lettuce salad with vegetables. You could also put as much dressing on your salad as you want, it wasn't already on the salad beforehand. The dessert was the s'more again, still a very popular dessert.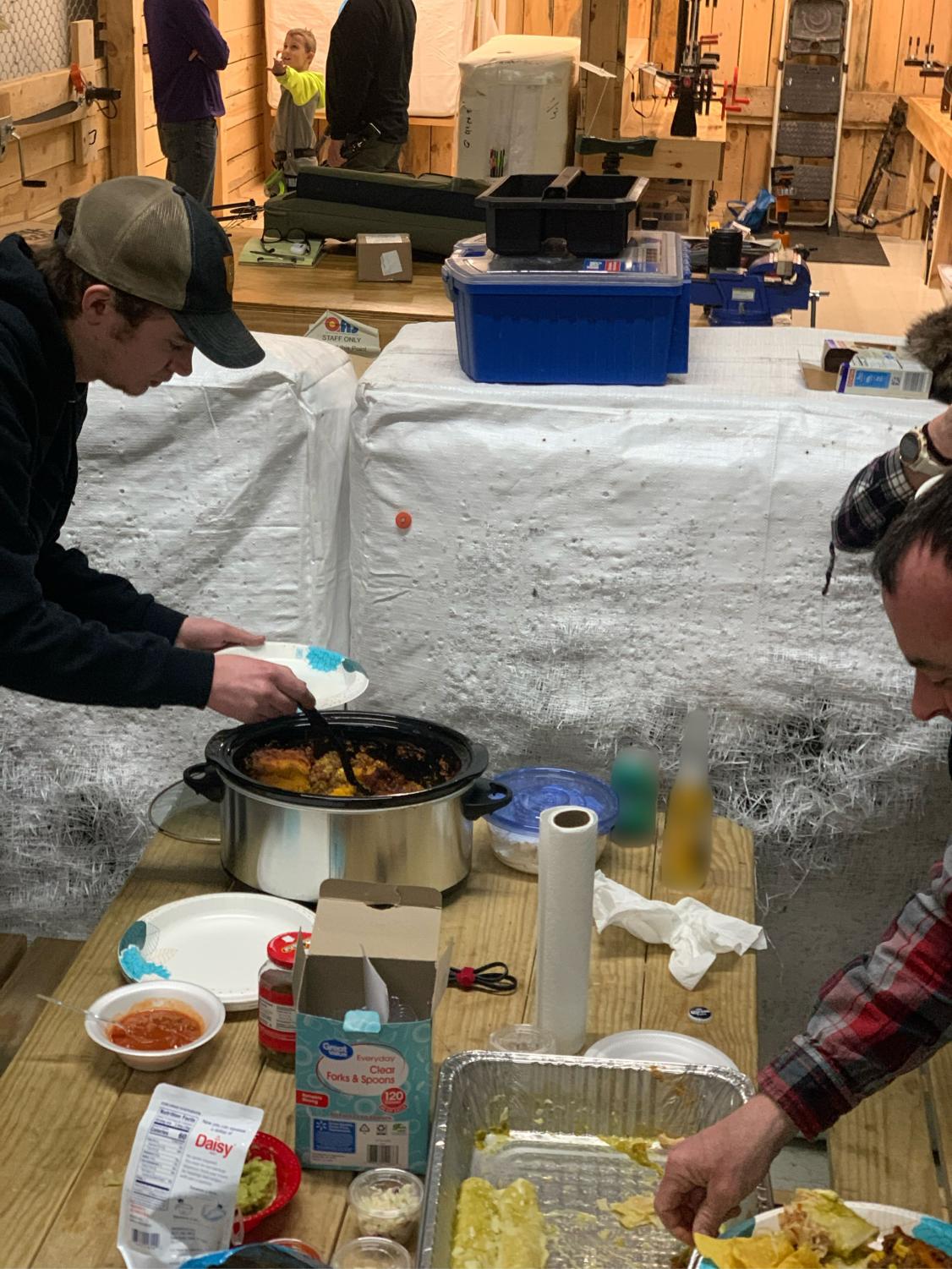 Mexican was the theme for the fourth week. There was a big variety of Mexican food. Chicken Enchiladas, Taco Dip with tortilla chips, and Tortilla pie were the main dishes. The Chicken Enchiladas were very popular. The Taco Dip was everything you put on tacos in a crockpot and were eaten with tortilla chips or just alone. The Tortilla Pie had a creamier texture than the Taco dip but very similar in taste. It also had a thick layer of cheese on top. Guacamole, salsa, and sour cream were brought to put on top or to eat with tortilla chips. Two desserts were brought this week instead of one. Mexican Wedding Cookies and Chipotle Brownies were for dessert. The Mexican Wedding Cookies were brought by Flack, of course. They had a bunch of powdered sugar on top and had a dough-like texture inside. The Chipotle Brownies were regular brownies with a touch of spice which were made by Lydia Hyjek.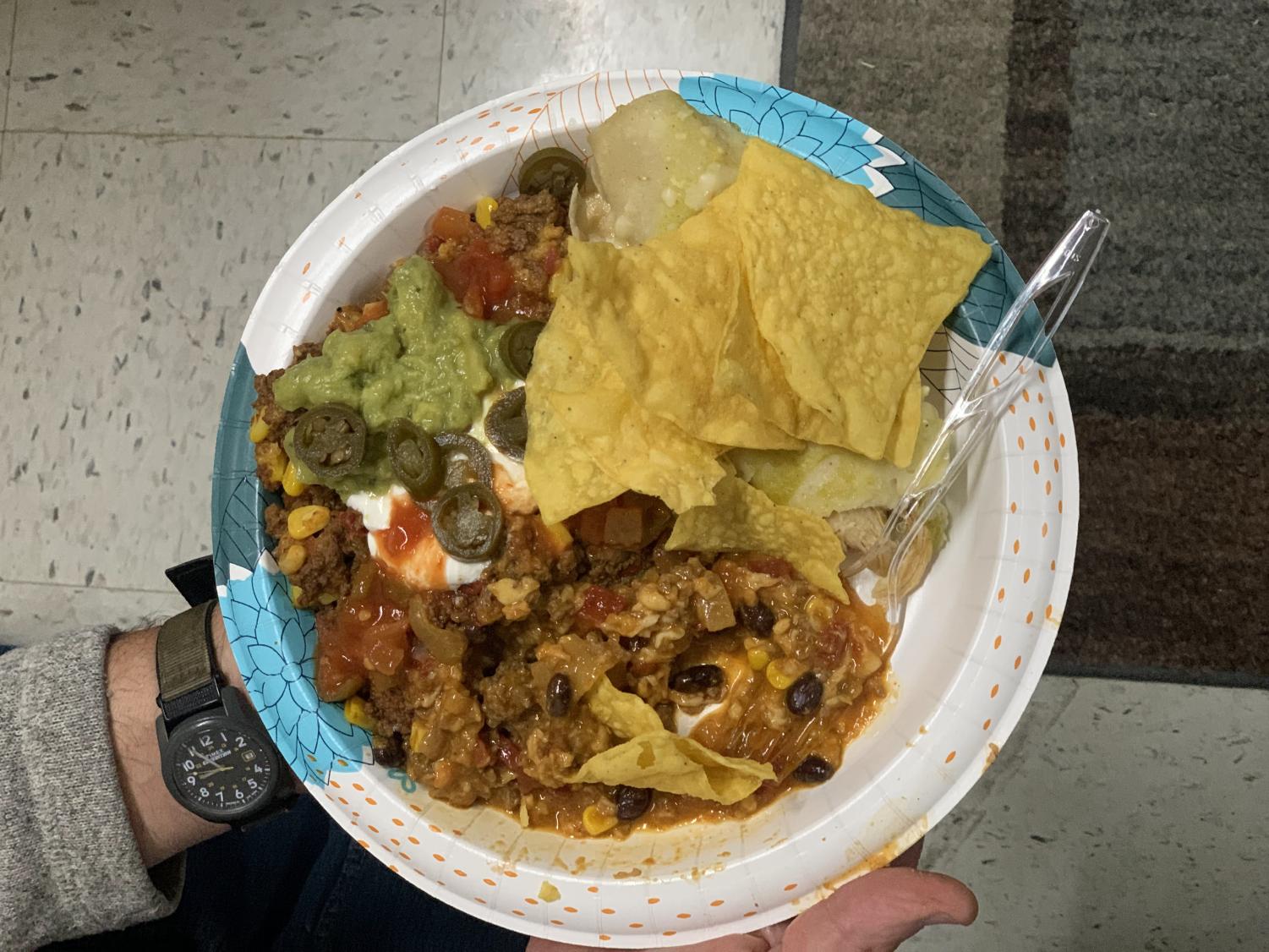 If you are interested in food and shooting at a Vegas spot target, this would be the community for you. With delicious food, fun people, and an opportunity to learn more about archery. The mix of personalities gives off a friendly vibe. Show up next year for Wednesday night Vegas league at Ohio Premier Archery and Sports in Middlefield.