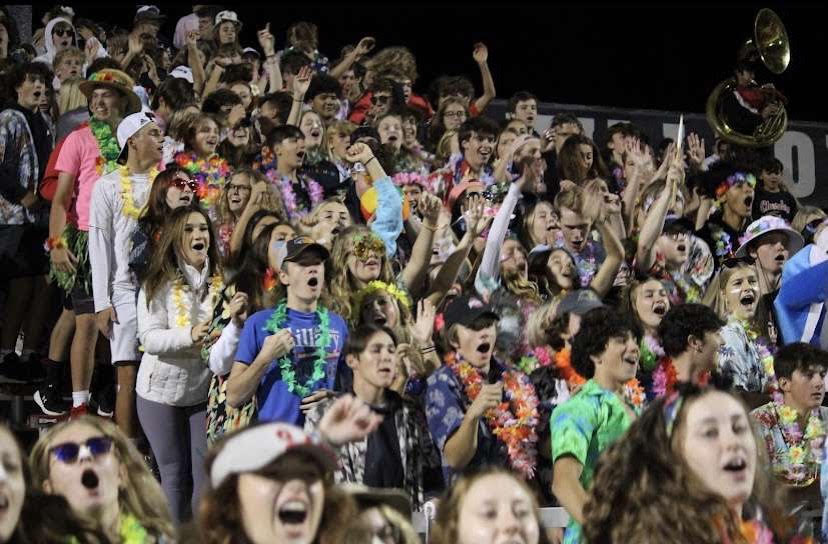 Three-Headed Crazies: Captains of Crazy Shared Between Three This Year
October 4, 2021
After a year of empty stands and silent stadiums, the Chardon Crazies return to lead to what some call Ohio's premiere student section. After Covid-19 shut down the world for months, the Chardon Crazies took a hit as they were not allowed to watch their teams play and especially missed the state championship game for the Hilltoppers football team. 
"This section hasn't been seen in almost two years." says Kyle Maronde, one of the captains of the Crazies. 
Maronde is a very charismatic and exciting student at the high school loved by many students. He has taken on the role of being a Crazy Captain alongside his longtime girlfriend Sierra Feller. Both of them are an inseparable duo on and outside of the playing field. 
Even though the two are nervous about making this the best year possible for the Crazies, they are also very optimistic about the upcoming seasons for the Hilltoppers.
"I have talked to previous captains and I am very excited and hopeful we can make this a great season." was one of the tips Feller received from past captains.
Maronde and Feller have been on top of themes for the section during this year's football season and they plan on continuing this for the rest of the school year sports seasons. The Crazies' third captain, senior Brooke Mckelvey, is also a big help in picking out themes for the different events the Crazies attend.
"It's part of the excitement on Friday nights," head varsity football coach Mitch Hewitt states, "and is also a great way to connect students in a positive assignment."
Hewitt has been the head football coach for the Toppers since 2011.
"The crazies were introduced in 2010 and were one of the first student sections in Northeast Ohio." says Chardon's athletic director, Doug Snyder. 
These two prominent figures in Chardon sports can both agree that the Chardon's Crazies are a fantastic trait for Chardon.
"The Chardon Crazies are the best student section in Northeast Ohio!" states Kyle Hall, a senior from North High School.
A student section led so well that people from other schools would rather be part of the Chardon Crazies rather than their own student section. Everyone in Chardon is very happy to have their Crazy section back and they know it is led by great captains!