Kevin Durant, A Young Legend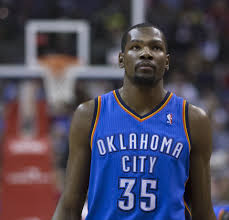 Throughout the course of basketball history, few have reached 15,000 points in an NBA career. Even fewer have scored that many in such a short amount of time. One of the few who have done both is Kevin Durant of the Oklahoma City Thunder.
Kevin Durant grew up in Washington DC, but attended the National Christian Academy, as well as one year at Oak Hill Academy. After high school, Durant enrolled at the University of Texas. While at Texas, Durant averaged 25.8 points per game, as well as 11.1 rebounds to add to that. This earned him the Naismith College Player of the Year. Following this, he enlisted in the NBA draft. His draft stock was very high, so naturally, he went second overall to the Seattle Supersonics, who eventually became the Oklahoma City Thunder. In his rookie debut, Durant scored 18 points, and threw in eight rebounds as well as five steals. Less than a month later, Durant hit a game winning shot against the Atlanta Hawks, and the already impressive legacy grew even more. Following the 2007-08 season, the SuperSonics relocated to their current location of Oklahoma City, Oklahoma. This is where Durant started to really make his mark. During the 2009-10 season, Durant was selected for his first NBA All-Star Game.
Following the 2010 season, Durant announced on Twitter that he had signed a five year contract extension with the Thunder. This was the same summer that LeBron James decided to "take his talents to South Beach and join the Miami Heat".
The Thunder used that to their advantage, reaching two conference finals, losing to the eventual NBA Champion Dallas Mavericks the first time around, and beating the San Antonio Spurs the following year, before being defeated in the NBA Finals by the Miami Heat.
Durant's best season, however, was the 2013-14 season, where he averaged 32 points, 7.4 rebounds, and 5.5 assists per game, earning him his fourth NBA Scoring Title, and was even named the NBA Most Valuable Player.
The crazy thing is that this wasn't even his best accomplishment. Despite being sidelined for 6-8 weeks from a foot injury, Durant recovered quickly and came back to lead the Thunder to a 7-1 record. During this, he became the second youngest player to score 15,000 career points, only behind LeBron James. With these, he is ahead of basketball greats such as Michael Jordan, and joins a very elite company of basketball players. It should be exciting to see what he accomplishes next, and how he propels to the next level of his NBA career.