Johnny Football or Johnny Dud?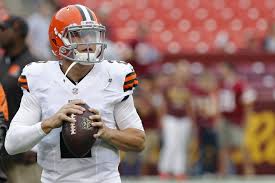 Sunday, December 14th, marked the first time that the Cleveland Browns' 22nd overall pick in the 2014 National Football League draft would make his debut.  Johnny Manziel, soon to be proclaimed as Johnny Cleveland, would finally get his chance after a pitiful past couple of weeks from the "hometown hero," Brian Hoyer.  The decision to start Johnny Manziel came on a Tuesday, December 9th.
Johnny Manziel was the fourth rookie quarterback to start for a team in the 2014-2015 NFL season.  Only Teddy Bridgewater of the Minnesota Vikings, Blake Bortles of the Jacksonville Jaguars, and Derek Carr of the Oakland Raiders have started their NFL career before college phenom Johnny Manziel.  Many sport analysts predicted Johnny to be the first rookie quarterback to start for his team, mainly because the Cleveland Browns had the biggest question mark at this position.  Although Johnny was predicted to be the first starter, the analysts were about 50/50 on whether he was going to be good or not.
Johnny Manziel's stat line from his week 14 start against division leading Cincinnati Bengals: 10 completions on just 18 attempts (55.6%) for 80 yards.  This was a 4.44 yards per attempt average.  He failed to throw a single touchdown, while throwing two crucial interceptions.  To go along with Johnny's passing stats, he rushed for a minimal 13 yards on 5 attempts.  These are not the numbers of a first round draft pick and, hopefully, a future franchise quarterback.
Comparatively Johnny's first start was by far the worse start of any rookie quarterback this year.  His numbers for his first start are worse than any of the three other quarterbacks outside of his rushing stats, which are the second worst.  But, nobody really cares about the rushing stats, he's a quarterback after all.  Johnny's QBR is 31.6 points lower compared to Derek Carr's, second lowest at 31.6.  Along with this poor QBR, Johnny's completion percentage is the lowest by 2.7%.  Johnny arguably has the best receiver in the NFL and by far the best one out of all four teams, yet he has the lowest numbers out of any of the four.  The minimal attempts goes to show just how much trust Coach Pettine has in Johnny Manziel.
Whether Johnny just had the rookie jitters or not, the decisions he was making and his throwing goes to show just how much more maturing he has left to grow.  In my opinion, Johnny will never amount to a true franchise caliber quarterback.  His running abilities is what made him able to make any sort of plays in college, but the NFL is a completely different game and it showed on Sunday.