Football Team Picks Up Huge Win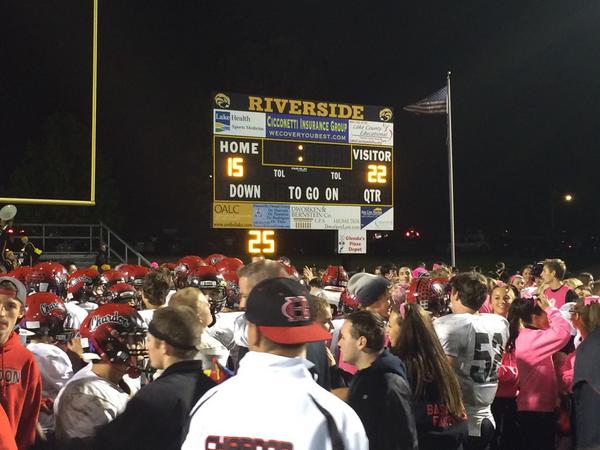 Hang on for a minute...we're trying to find some more stories you might like.
The scoreboard struck 0:00 as the Chardon Crazies stormed the Riverside Beavers' field to celebrate the victory with their team. Dozens of dedicated crazies shouted, smiled, cheered and ran across the field congratulating the players and coaches. Parents from both sides watched from the stands as shouts of  joy came from the Chardon side.  The celebration went on for a few minutes until the players settled down and huddled around head coach, Mitch Hewitt.  Coach Hewitt praised his team for a hard fought win, and thanked the students who were standing around the players for "Cheering the team on the entire game".
The game started off like a heavyweight boxing match with each team getting their hits in.  Riverside scored first to take a 8-0 lead.  Quarterback Patrick Sullivan answered with a touchdown pass to Christian Ross to tie it up. After a Riverside fumble on a punt, the Toppers convert the turnover into a turnover to take a 15-8 lead. Beavers score a late 3rd quarter touchdown to tie the game up.  With 10:41 remaining, the Hilltoppers got the ball back on their own 20 yard line.
"The offensive knew this was a crucial drive and we needed to score." senior lineman Clay Ahlman states.  For about eight minutes the offensive drove down the field, until Sullivan kept the ball and scored off the left side for 22-15 lead.
Senior Drew McCartney remembers seeing Sullivan running to the endzone, "I was like oh my God, we won".  The Hilltopper defense stayed strong at the end and preserved the huge win.
With playoffs looming, senior Patrick Sullivan knew how big of game this was. "We needed this win, our defense played great and our offense really stepped it up". Sullivan had 22 carries for 99 yards.  The backfield yardage was divided among junior Christian Ross, senior Joey Grippe, and senior Ben Cyvas. Christian Ross also had 3 catches for 27 yards. Jordan Barrett had two catches for 52 yards, 1 touchdown.
The defense for the toppers held the previously explosive Riverside offense to 15 points. "Everyone did their job", defensive lineman Ben Cyvas states,"We played fast and got after the ball carrier".
With the victory the Hilltoppers improve to 6-2, and are in a favorable position to make the playoffs. The Hilltoppers next game is October 24 against University School, their final regular season home game.