What is a Hunter's Holiday Dinner?
We're used to having a store-bought turkey and Grandma's mashed potatoes for dinner during the holidays. But have you ever thought about making and hunting your holiday dinner? People all over the world hunt and grow their own food including deer, turkey, veggies, fruits, eggs and so much more. 
Raising your own meat is great for the environment, tastes better, and you can rely on yourself for food instead of the grocery store. Raising your own turkey is a little more expensive than buying it at a store or hunting it during hunting season. But it is worth it to raise your own turkeys so you know what they're eating daily. To hunt a turkey, you'll need to buy a tag. A turkey tag costs $31.20 in Ohio and you would need a valid hunting license for the state. But remember it's called hunting; you won't get a turkey for sure. And to buy a 20-pound turkey from Giant Eagle, it's $33.80. But if you don't want a traditional holiday dinner, other wild game could be used as dinner, venison, squirrel, rabbit, etc. can be used. A member at Geauga Bowmen Archery Club, Randy Miller, makes a dish called Squirrel and Dumplings. Squirrels kind of taste like chicken. It's like the chicken of the trees.  Here's what it consists of: 
Ingredients:
3 Squirrels
1 onion
½ stick of butter
2 cans of cream of chicken
2 cans low sodium chicken broth
½ teaspoon season salt
½ teaspoon garlic powder
½ teaspoon chicken rub
For the rolls/dumplings:
2 cans of southern-style biscuits or any dumpling recipe.
Steps:
Skin them and boil squirrels until meat can be pulled off the bone

Add onion, butter, cream of chicken, chicken broth, season salt, garlic powder, chicken rub, and deboned squirrel to the crockpot. Cook on low for 6-7 hours.

After 6-7 hours add dumplings or biscuits.
-If added biscuits: Cut raw dough into small chunks and put in flour, so they're not sticky. Put raw dough on top of the broth. Turn on high and cook until done. 
-If added dumplings: Depending on the cooking time, they may need to go in the oven first then be added to the crockpot after baking. Dumplings are better if served later in the day so they don't get soggy.
Having a garden can be good for the environment, veggies in the grocery store sit in the store for many hours and many days and after a while, they get thrown away which is a waste of food. Growing food can have pros and cons. Some pros are you know where your food is from, you can save them by canning them and they don't have all the chemicals on them. You can also sell them at farmer's markets for a profit. But some cons to growing veggies and herbs are they could die during the growing process or those pesky animals get in your garden and eat your vegetables. If planting and growing greens aren't your styles, you could buy veggies and herbs from your local vegetable stand or farmer's market. Two recipes that could be great for a holiday dinner are Sweet Potato Casserole with Marshmallows from Donnie Miskinis and Veggie Pizza Dip from Kasie Phelps. The Veggie Pizza Dip could be easier for a last-minute side or appetizer for dinner. The Sweet Potato Casserole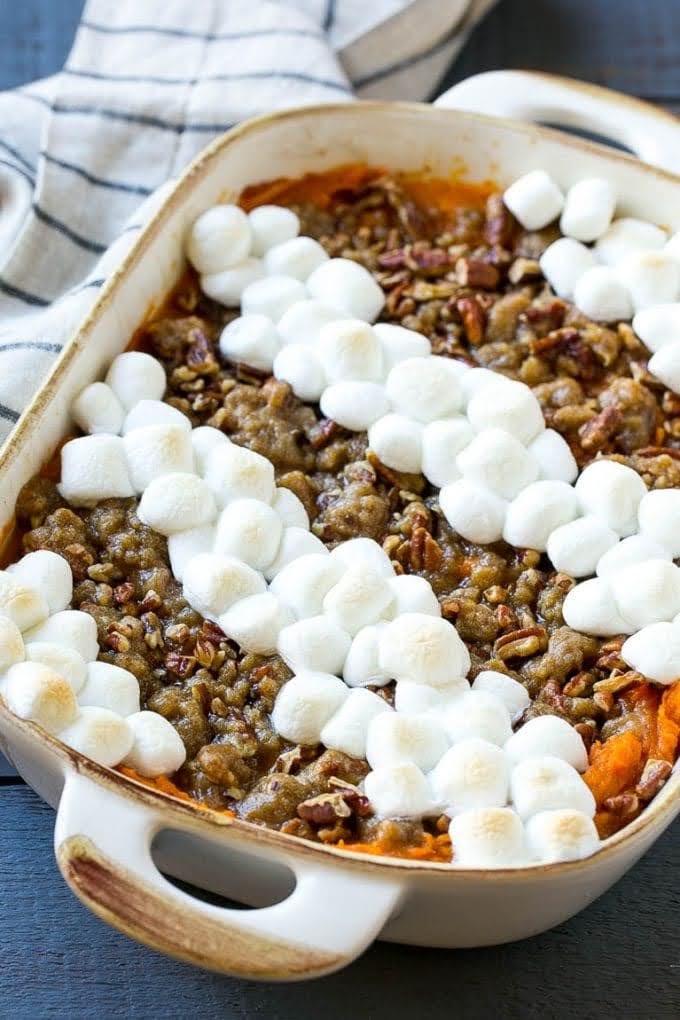 Sweet Potato Casserole with Marshmallows
Casserole:
2 pounds of sweet potatoes cleaned
4 tablespoons melted butter
¼ cup milk
¼ cup packed brown sugar
2 tablespoons maple syrup
1 teaspoon cinnamon
1 egg
1 teaspoon vanilla extract
Cooking spray
Topping:
½ cup packed brown sugar
½ cup flour
4 tablespoons melted butter
¼ cup chopped pecans
1 cup miniature marshmallows
Steps:
Preheat oven to 350 degrees. Line sheet pan with foil and coat with cooking spray. Prick the sweet potatoes with a fork and place them on the pan. 

Bake the potatoes until tender, 45 minutes to an hour. 

When potatoes are cool enough to handle, cut them open, scoop out the insides, and place in a large bowl. 

Add the 4 tablespoons of butter, milk, brown sugar, maple syrup, cinnamon, egg, and vanilla to the bowl.

Use a potato masher or hand mixer to mash or beat the potatoes until mostly smooth. 

Grease a 9-inch square pan with cooking spray.

Spread the sweet potato mixture evenly in the pan.

In another bowl, mix together the brown sugar, flour, melted butter, and pecans until crumbly. Sprinkle the crumb topping over the sweet potatoes.

Bake for 25-30 minutes or until topping has slightly browned.

Remove from oven, sprinkle the marshmallows over the top, and return to oven.

Bake for an additional 3-5 minutes or until marshmallows are just melted.

Serve immediately.
Veggie Pizza Dip
Ingredients: 
1 container of Marzetti Veggie Dip
2 tablespoons chopped broccoli
2 tablespoons chopped cauliflower
2 tablespoons chopped tomatoes
2 tablespoons chopped yellow pepper
2 tablespoons chopped carrots
2 tablespoons finely shredded cheese of your choice
Steps:
Spread Veggie Dip onto a shallow platter.

Top with chopped veggies and shredded cheese.

Enjoy with fresh veggies or your favorite crackers. 
If you're not great at cooking, growing, or hunting food and you're better at baking, then making holiday desserts is right up your alley. Making your own desserts can taste better and you can rely on yourself instead of trying to find something at the grocery store last minute. You could get ingredients for your recipe from your local farmer's stand like G.A.R. Horizons or New Creations. Jessica Underwood makes a delicious-looking Dutch Apple Pie, here's how to make it.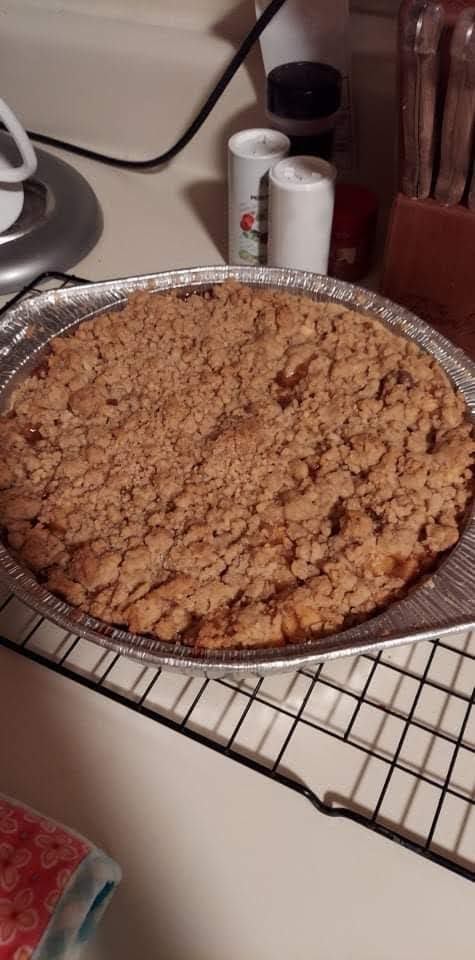 Dutch Apple Pie
Crust:
1 cup salted butter softened
2 cups all-purpose flour
½ cup confectioner's sugar
Filling:
8 cups sliced cored peeled apples
½ cup granulated sugar
¼ cup all-purpose flour
¼ teaspoon ground cinnamon
1 tablespoon lemon juice
Topping:
½ cup softened unsalted butter 
1 cup all-purpose flour
⅔ cup packed brown sugar
1 tablespoon granulated sugar
Steps:
Preheat oven to 350 degrees to bake the crust.

Mix together butter, flour, and confectioner's sugar. Press into the bottom of a 9 by 13-inch baking pan, a pie plate, tart pan, or other pans for your baking.

Bake for approximately 12-15 minutes, or until lightly golden brown.

Remove from oven and allow to cool completely before filling.
Filling/pie cooking instructions:
In a large bowl, toss filling ingredients. Cook the apples on the stove for about 10 minutes. Pour into pie plate, mounding apples toward the center.

In a medium bowl, use a pastry blender or fingers to mix butter, 1 cup flour, and brown sugar until crumbs form. Sprinkle evenly over the top of the pie. Sprinkle 1 tablespoon granulated sugar on top.

Bake 55 to 65 minutes or until pie crust and crumb topping are deep golden brown and filling begins to bubble. Transfer to a cooling rack to cool.