Ode to Fall Coziness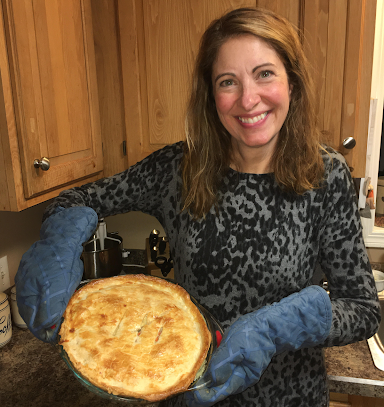 Every year, I note of subtle changes in the leaves outside my bedroom window. I always love the rust red, amber, and burning orange mix of colors that begin to replace the green. The display reminds me of everything the autumn has to offer. After a long hot summer, I am finally able to step outside to be surrounded by the fresh cool air like a drink of water after mint gum. Lighting sweet candles with the scent of cinnamon and apple, I'm ready for reading scary stories by Stephen King next to a warm fireplace.
When I come home after a long day of school I can finally wrap up into a knitted sweater and drink a steaming cup of coco by the window. I can feel the warmth through my hands holding the mug. Mom calls me down for dinner, and I am greeted with the smell of her homemade chicken pot pie. We discuss our days while enjoying the buttery, creamy, crispy crust of the pot pie, along with a cold glass of apple cider, surrounded by fall smells and colors outside.
It is not such a crazy thing to love the coziness of fall, a season of shorter days and dying foliage. Even in the fall,  there are always those who hate the change in season and the cold weather it brings, but maybe appreciating Autumn in all its splendor just requires a shift in mindset. The word hygge first appeared in old Norwegian, meaning "well-being". It can now be defined as a quality of coziness and being comfortable during the colder, darker months of the year.
Enjoy this fall, embrace this change, possibly with your own delicious pot pie.
MOMS HOMEMADE CHICKEN POT PIE RECIPE: 
Ingredients:  

¼ cup butter

¼ cup all-purpose flour

1 ½ cups chicken broth

¾ cups milk

1 teaspoon salt

1 teaspoon pepper

1 tablespoon Better than Bouillon chicken base (optional)

1 cup diced carrots

2 cups shredded or diced chicken

½ cup frozen peas

½ cup diced onion

2 premade pie crust 

1 egg, slightly beaten 

Instructions:




Preheat oven to 425 degrees.

Heat a large, deep skillet over medium heat. Add the butter and melt.

Whisk in the flour and continue whisking over medium heat for 1 minute.

Slowly pour in the chicken broth and milk, whisking constantly. Continue cooking until mixture has thickened. Stir in salt and pepper. Add chicken bouillon if more flavor is needed.

Add the carrots to a microwave safe bowl, cover with plastic wrap, and microwave for 3 minutes.

Add the chicken, potatoes, carrots, peas, and onion to a large bowl. Pour in the chicken broth mixture and stir to combine.

Arrange the bottom pie crust in the pie plate. Pour the filling over the crust. Add the top crust.

Brush the crust with the beaten egg.

Crimp the edges and cut 4 small slits in the center of the top crust to vent.

Bake for 30-40 minutes or until the crust is golden brown.

Let sit for 5 minutes before slicing and serving.