Massive Fire Strikes Burton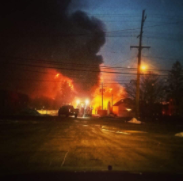 While parent-teacher conferences were taking place at Chardon High School, thick clouds of black smoke rose over Burton Village the night of February 1. The usually quaint area across from the summertime hotspot of Geauga County Fairgrounds, a massive fiery inferno started at Ronyaks Paving company. The company has been a family tradition for over 75 years.
According to a post on the informal community news Facebook page, "Meanwhile in Geauga County", the height of the flames towered over the trees and smoke filled the sky.
Original poster and eyewitness Matthew Storer commented on what he saw, "I heard two explosions… it took fire trucks from several different towns [to control the fire]."
Storer went on to write, "It took over two hours for them [fire fighters] to shut the gas off."
The company lost all of their equipment in the devastating fire.  
The initial cause remains under investigation.