Maria Leaves Puerto Rico in Devastation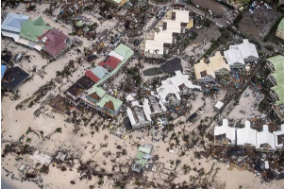 Lydia Spangler
October 16, 2017
The end of September brought extensive damage and destruction to the US territory of Puerto Rico through the fierce category 4 storm, called "Maria." It hit September 20th, and because of it, 85% of the island is without power, and probably will be until at least next year. While the death toll is at 45, many expect it to rise, blaming bad communication in the territory for the low and seemingly inaccurate number, as well as the infrequent updates.
Many have criticized the US response to this tragedy as a whole, but local responses across the country have started to pop up. At Chardon high school, Señora Niedzwiecki, a Spanish teacher, talked about how she is talking about this with her classes, "I think it needs to be discussed more…[Puerto Rico] is treated as its own country, but they are still American citizens."
Niedzwiecki also talked about how, while standard learning is still important, talking about events like what is happening in Puerto Rico are just as important, saying that these are real things happening to real people around us, and they should be talked about just as much as the black and white textbook learning that schools are used to.
Señora Korenke, another Spanish teacher at Chardon, also commented on the situation, saying that her students are doing presentations on this event in class, and they talk about it's effect of the island's people. "Once we talk about this a little bit, I'm going to ask the kids 'what can we do?' and then I was thinking of maybe doing a drive."
The United States has sent 5,400 troops to help with the relief efforts in Puerto Rico, but many people are saying that is not enough. It will be at least six months until power is fully restored to the island, residents are forced to stand in line for hours to get access to basic resources and many are deciding to just pick up and leave, possibly for good. "Theres 3 million people who don't have electricity. I just saw yesterday, one lady waited seventeen hours in line to get gas, and then she was back in line the following day to try to get some food," Korenke says.
Many are still in need of help, but local relief efforts and even just education about the problems that the island faces can make a world of difference to the millions that so little hope left.