Violent Protests Divide the Nation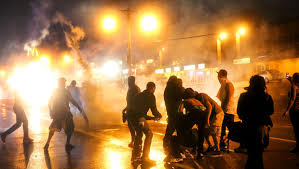 Hang on for a minute...we're trying to find some more stories you might like.
In the recent weeks a wave of protests have swept through America's major cities. This is the result of several controversial incidents involving police and citizens, all of which have led to deaths.  Protests have arisen over the supposed motives of these killings, as many of the killings have involved leading many African-Americans to believe that the killings have been racially motivated.
There have been three major incidents that have fueled the fire for the recent racial unrest in America.  The most famous and highly publicized case was the incident between Michael Brown and policeman Darren WIlson in Ferguson, MO. Brown was walking in the middle of the street while Wilson drove up to him and a friend and told him to move to the sidewalk.  After this Brown and WIlson got into an altercation near the vehicle, which ended with Wilson chasing Brown and firing several rounds into him.  The lack of a charge brought against Wilson has reignited the anger in the  suburban St. Louis town, and led to riots with many buildings and businesses being destroyed.
The second case involved Officers Frank Gamback and Tim Loemann along with 12 year old Tamir Rice.  The officers were dispatched to the Cudell Recreation Center in Cleveland, OH, when a call was placed to 911 regarding a young man brandishing a gun. The officers arrived at the scene and ordered Rice to put his hands up but rice reached for his weapon and Loemann shot him to death.  Later it was revealed that Rice was carrying a toy gun with the safety removed and that Loemann was also deemed unfit for duty by the Independence, OH police department.
The final case that seems to have been the straw to break the camel's back was the death of Eric Garner in New York City. Garner was approached and accused of selling single unlabeled cigarettes, which is illegal, by officer Dan Pantaleo of the New York Police Department.  After denying involvement in the illegal activity, Garner was put in a chokehold by Pantaleo and screamed "I can't breathe." before he died.  Pantaleo was not charged setting off more protests around the nation.  In addition, the words "I can't breathe have become a rallying cry for racial  equality in police treatment.
While protests continue, many have said the protests have divided the country more.
"This is 2014, and we are still confronting the problems that our mothers and fathers confronted back in the civil rights era." said 53 year old protester Cat Daniels to USA Today.  Indeed the protests and violence has made some parts of America feel more like 1964 than 2014.  Jay Williams, a 27 year old protester said that,
"Some people are going to have to die for the cause…there will be casualties and there will be bloodshed."  One can only hope this vision will not come to fruition and that America can restore peace and positive energy to it's streets.