Fun-filled fundraiser for the families of Chardon victims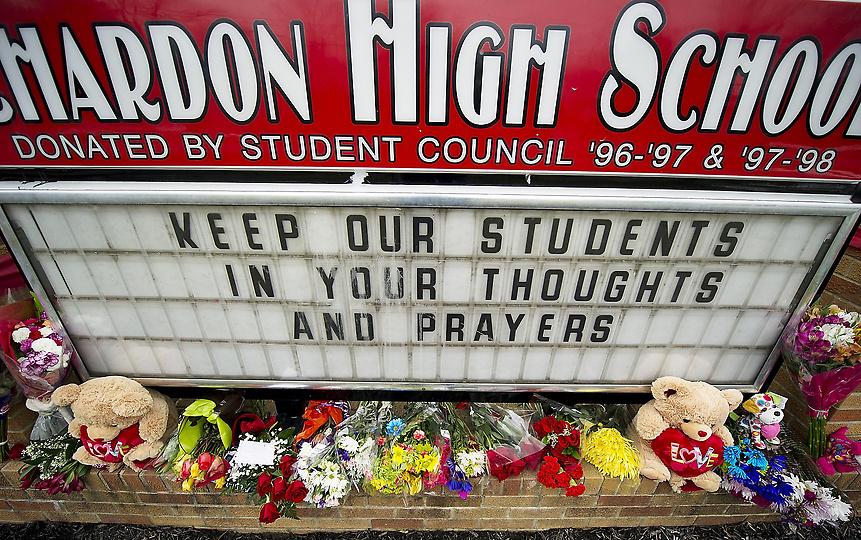 Brooke Bender, Team A Copy Editor
March 16, 2012
Over the past few weeks after the tragic shooting at ChardonHigh School, Chardon has seen an amazing amount of support from surrounding communities. Specifically, fundraisers have provided an unbelievable amount of financial support for the families of the victims and the Chardon community as a whole. A big upcoming fundraiser, Love for Chardon, has been planned and will take place on April 21 at the Blind Pig in Cleveland (1228 West Sixth St) from 4:00 to 9:00 p.m.
The Love for Chardon fundraiser will consist of a fire show by Robbie Flair, performances by many bands, auctions, Chinese raffles, and giveaways. Juliana Meyers, a sophomore and one of the Chardon students helping with the fundraiser, said that coming to the event "will show that people care, and it'll be a fun time for everyone." The 900 tickets to the event are only $20, and they include entrance to the event, appetizers, and pop for kids or one adult beverage for adults. Every cent of the proceeds made by tickets goes directly to the family of victim Nick Walczak, and the rest of the profits will be evenly distributed to the families of Chardon victims. People under the age of 18 who wish to attend need to come with a parent. Tickets are available online at www.tangkoo.com/Chardon, or from some Chardon students including juniors Brooke Bender, Sebastian Diaz-Rodriguez, Mason Bender, and others.
The fundraiser will feature many unique experiences. Among the many prizes being auctioned off will be a Daniel "Boobie" Gibson autographed jersey, and Anderson Varejao autographed basketball, several gift cards to various restaurants, and more. Cleveland Browns player Marcus Bernard confirmed that he would be at the event and would be signing autographs. Although buying a ticket and coming to Love for Chardon would be a great way to support the event, there are many other ways for people and businesses to contribute. There will be a program book in which companies, families, or people can purchase space to either advertise their business or write a message of support for Chardon. In addition, there could never be too many contributions for the auction and Chinese raffle.
The idea for Love for Chardon was started by Michelle Redfearn, one of the many counselors who made themselves available to Chardon staff, students, and families after the school shooting on February 27. Not only did she want to help the families of the victims, but she also wanted to give some students and their families the opportunity to show support for their community. On Love for Chardon's facebook page, Redfearn expressed, "Although I had the privilege of being at the Chardon schools from day one counseling the kids, staff, and families, I believe I crossed their paths for many other reasons." This fundraiser, for example, could be one of those reasons. Meyers, thinking along the same lines, mentioned, "I felt I needed to help others since the tragedy affected me and my friends." Junior Mason Bender, a junior helping with the event, said the event was important in order "to show the families [of the victims] how much we care."
To make a donation or ask for more information, contact [email protected]