A Day to Remember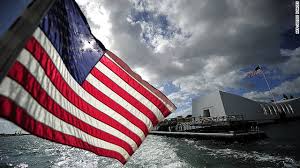 David Douglas, Team B Staff Writer
December 16, 2014
Never forget December 7, 1941. Due to a decision made by the United States Congress on August 23, 1994, this day was dedicated to be a day to remember and honor all those who died in the attack on Pearl Harbor. It is a tradition to fly the Flag of the United States at half-staff until sunset in honor of our fallen, unsuspecting soldiers.
It was an early Sunday morning in 1941 in Pearl Harbor, Hawaii, an American naval base when an attack by the Imperial Japanese Navy aircraft killed over 2,000 American military personnel and injured about 1,200 others. As a result of the attack, two United States Navy battleships were sunk and five others were damaged. This attack on American soil sparked United States involvement with World War II. It wasn't long until Canada declared war on Japan, the first Western nation to have done so, and the next day the United States declared war as well. President Franklin Roosevelt, in a speech to Congress, stated that the bombing of Pearl Harbor is 'a date which will live in infamy.
Various different memorials have been established over the years in remembrance of the day and what happened. One particular memorial would be of the sunken battleship the USS Arizona, dedicated in 1962. It consists of a giant marble whom recalls all the military personnel who were killed during the attack on Pearl Harbor.
Pearl Harbor Remembrance Day It is not a federal holiday. Government offices, schools, and businesses remain open, however, some organizations may hold special events in memory of those killed or injured at Pearl Harbor. The message that comes from a day like this, similarly to that of Veterans Day, is to take the time to appreciate and thank the men and women who risked their lives by serving in the United States Military in order to preserve our rights and freedoms.