Festive Flicks
Staff writer summarizes Holiday films that will keep you warm and fuzzy during break.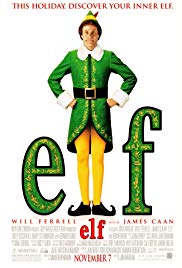 You know Dasher and Dancer and Prancer and Vixen, Comet and Cupid and Donner and Blitzen, but do you recall, the greatest Christmas movie of all? There's nothing like being with family and friends enjoying a nice cup of hot cocoa and watching a Christmas movie. Some festive favorites include:
A comedy about a young orphan named Buddy who is raised by elves in the North Pole. Buddy travels to New York to find his real father and he meets a businessman named Walter Hobbs, and a chaotic adventure follows. 
This holiday classic is about a young boy named Ralphie Parker who dreams of getting a "Red Ryder bb gun" for Christmas. He spends most of his time dodging a bully and dealing with his cranky father. 
CHS senior Cooper Farrow prefers this holiday classic.
"My favorite movie is a Christmas Story because every year when we go down to my grandparent's house we watch it. It's like a tradition." 
Rudolph the Red-Nosed Reindeer

(1964)
This holiday stop motion film is about a young reindeer that doesn't fit in. He is made fun of because he has an unusual glowing red nose. Rudolph makes many friends while following his dream to pull Santa's sleigh.
Some people prefer the oldies but goodies. Such as CHS science teacher, Mr. Eric Bartley.
"Rudolph is my favorite Christmas movie. I love everything about it. The claymations, the storyline, the misfit toys, the abominable snowman… I mean, what's not to love about Rodolph?" 
8-year-old Kevin Mcalister is accidentally left behind when his whole family leaves for Paris. As his family struggles to get a flight back to him, he must protect his house from two con men who are trying to rob him.
When a young boy gets on a magical train that takes him to the North Pole, he learns about the power of believing and friendship.
CHS senior Ryan Bluemell enjoys this holiday adventure best.
"The Polar Express would have to be my favorite movie. It has a special meaning for me because it's the first movie I ever saw in theaters."
Mickey's Once Upon A Christmas

(1999)
This video features three separate stories including Donald Duck Stuck on Christmas, A Very Goofy Christmas, Mickey and Minnie's Gift of the Magi. The themes of all these stories are love and the importance of being with family and friends. 
National Lampoon's Christmas Vacation

(1989)
Clark Griswold wants to have the perfect Christmas with his family. These plans are changed with a surprise visit from his hick cousin and his family.
CHS principal Mr. Murray prefers this humorous holiday movie.
"My favorite Christmas movie has to be National Lampoon's Christmas Vacation. Chevy Chase is absolutely hilarious and it's a good old American Christmas story with crazy inlaws. Whenever it comes on I have to watch it."
So snuggle up with some family and friends and to get watching these holiday hits! Merry Christmas!