Lone Survivor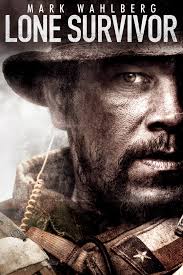 Excitement. Heroism. Terror. Three words that describe the newest war/emotional/survival/action/thriller in theaters. Lone Survivor portrays the true events of Operation Red Wings, set in Afghanistan in 2005. The movie itself is based off the similarly-titled book, Lone Survivor, by Marcus Luttrell.
Starring Mark Wahlberg, the movie immediately brings you face-to-face with the personal side of warfare, specifically special operations. As a moviegoer, you are quickly introduced to the four main characters and learn their backgrounds not only as soldiers, but as normal people. After only a few minutes, the movie has you feeling as though you know each Navy SEAL personally.
Although it is a story that pulls at even the toughest man's heartstrings, there are several laughable moments throughout, starting with the actual planning of the mission.
Once the conflict started the movie quickly turned dark. The visual effects as well as the sound effects were amazingly realistic. So amazing, in fact, that the film received two nominations for Academy Awards- Best Sound Mixing and Best Sound Editing.
The combat scenes immerse you in the action with the SEALs. The originality of this movie even rivals Saving Private Ryan. If you are the type of person that seeks an intense, edge-of-your-seat flick, this is the one for you.
A whole new appreciation is gained for those that fight for our country overseas. The ending of the movie highlights the lives of every service member lost in the actual events of Operation Red Wings, ranging from Navy SEALs to Army Nightstalkers. As stated earlier, this movie truly highlights the personal side of war. You can feel the sense of brotherhood amongst our military.
When you see this film, expect to want to go home and research further. The movie will put an image into your brain that makes you want to find out everything and anything about the main character possible. Expect to find yourself with a whole new sense of patriotism. The effects of this movie on you are simply incomprehensible.