The Delay Dilemma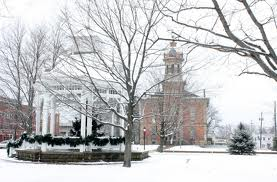 Hang on for a minute...we're trying to find some more stories you might like.
Last Thursday the snow was falling crazily. Every school in Geauga was off on Friday EXCEPT Chardon local schools. The snow took an extended break on the weekend, but that break broke and the snow was back on Monday. All day on Monday students got watch the pretty fall of snow as it covered the staff's and students cars. Everyone was anticipating more snow on Monday night, but none came.
On Tuesday morning students watched the news, hoping to see our school closed, but we had no such luck. As students walking in from the cringing cold there were some exclaiming how much they hated winter, while others were talking with excitement about the first snow fall.
This year will be the first year that Chardon local schools will be activating two hour delays, and just like the snow some are happy and some are upset. When asked how she felt about the two hour delays, sophomore Kendall Nering said, "I'd rather have a full day off of school than just two hours." Other students said that they were okay with it. Kateri Sokol, a sophomore, was one the happier people and here's what she had to say about the two hour delays, "I like it because it'll be safer to get to school and the school will have more time to decide if they're going to call of the whole day." Lindsey Pucella was another happy hilltopper about the delays, "I think it's a good idea because when they usually call it off it's only bad in the morning."
Others had very good arguments as to why the delays weren't the best ideas and one of these was senior Angela Minichello. She said, "I think it's kind of useless because no one will show up anyway." Alissa Hartman also had a few wise words about the delays, "I think it's going to be more difficult for student drivers to get to school, and for the students who can't drive it'll mess up their parents schedule." There were also students who were undecided about the delays. Sophomore Miranda Harper could see high points on both sides, "I think it's kind of a good idea because it's usually only bad in the morning. I also think it's a bad idea because no one's going to show up anyway. Plus, what happens if it doesn't get better and inexperienced students have to drive with not very good roads? There's upsides and downsides to the delays, so I can't decide if it's a good idea or not."