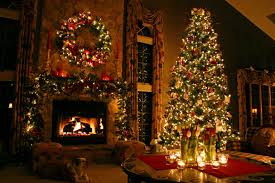 Well, it's that time of year again! Christmas is quickly approaching and students are starting to really get in the holiday spirit. Festive sweaters have been broken out from the deep crevices of closets, cookies are starting to be made, presents are starting to be given, and everywhere you go you hear jolly Christmas music. However, as of right now, there is sadly one thing missing; snow.
¨Christmas just isn't Christmas without the snow¨ says junior, Jackie Schlag. Last year around this time Chardon had a few feet of snow and already missed some school due to snow days. There was enough snow in fact for a group of last year's seniors to attempt one of the coolest (almost) senior pranks ever. These seniors came to the school in the middle of the night with shovels and a pickup truck intending to cover all of the entrances to the school with walls of heavy snow. They covered each and every door and actually made it back to their stake out; however, shortly after, the police arrived and traced their location. One of the students, Bobby Bukovec, says ¨It would have been awesome if we didn't get caught and asked to put the snow back, but it was still worth it. We had fun and made a lot of memories.¨ This year nothing of that nature will be happening unless there is a sporadic winter blizzard.
Although the weather is not necessarily optimal, most students are still gettin' in the mood. The Chardon Square shining bright with multicolored lights every night and decorations in surrounding yards add to the Christmas cheer.  Listening to and singing along with holiday music is another great way to get into the Christmas mood. ¨Christmas music is the best because when you are in a bad mood it can quickly put you into the holiday spirit¨ believes Jacque Hunter. Because of this, the holiday concert both in school on Wednesday and that night will most certainly get people feeling festive.
As the classic Irving Berlin song says, "I'm dreaming of a white christmas, just like the ones I used to know." And who knows? Perhaps the end of the movie (or show) will become our reality. There is still plenty of time before what some may say is "the best day of the year" for a rush of cold air to come in and make this muddy mess into a beautiful snowglobe.