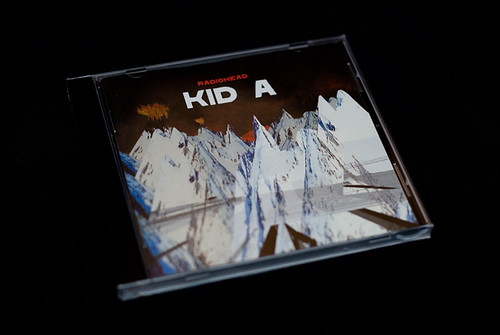 Radiohead reissues iconic album "Kid A" for its 21st Anniversary
October 15, 2021
With the recent announcement of remastered versions of both Kid A and Amnesiac, there's no better time than ever to go back to Radiohead's defining album, Kid A. Before we get to that, it's important to discuss what led the group to create it.
Radiohead is a band formed in Abington, Oxfordshire in 1985, consisting of Thom Yorke on vocals, guitars and keys, brothers Colin Greenwood on guitar keys and various other instruments, and Johnny Greenwood on bass, Ed O'Brien on guitar and backing vocals, and Philip Selway on drums.
The band released their debut album Pablo Honey in February of 1993. They had some success in their home country, but over in the states, their single "Creep" rapidly gained success. The song topped at number two on the US Modern Rock Charts. "Creep" has continuously overshadowed the band's entire discography, and it remains their most popular song. The other singles they released for Pablo Honey, "Anyone Can Play Guitar" and "Stop Whispering", failed to gain much traction or success.
Radiohead began rehearsing and recording for their next project The Bends in 1994. Before the album was released, however, they announced their My Iron Lung EP, which consisted of a few singles. The song "My Iron Lung" which would make its way onto The Bends by its release, was a surprise hit and proved that the band was more than a one-hit-wonder. While gradually announcing new songs on tour, they finished recording in late 1994 and would fully release their sophomore album in March of 1995. This new release brought both critical success and a cult following of a fanbase 
Released in 1995, The Bends is driven off of strong riffs and mysterious atmospheres. When released it was met with some critical success and was commercially more successful than their debut album. Although none of the singles released for the bends were as popular as "Creep", it showed that the band was improving in several areas, like songwriting and lyricism. 
When the internet became mainstream Yorke had anxieties about how people would lose their self-expression and identity. He used his music as a way of expressing his fear and anxiety, saying that the lyrics for Radiohead's next record were written while observing how fast the world was advancing in the 1990s. When Ok Computer was released in May of 1997 it was met with critical acclaim and was instantly regarded as one of the greatest records of all time, being compared thematically to albums like Pink Floyd's Dark Side of the Moon.
While touring for Ok Computer the band grew tired of playing live, becoming endlessly exhausted and tired of playing the same set of songs. Yorke became very depressed, calling it a "real low point"; the band even considered breaking up. They decided to take a different approach to record their next album, with each member having different visions for not only the album but the band's future as a whole. Yorke was suffering from writer's block, inspiring him to, leading him towards a very fragmented songwriting process. The album was released in October of 2000, and no one could've predicted the culmination of nearly 18 months of nonstop work Kid A.
The record begins with "Everything In Its Right Place" which is a great example of Yorke's method of songwriting for this record. This carries over to the title track, an empty and ambient track filled with synths and broken-up distorted vocals that are almost unrecognizable to Yorke's typical style of singing. 
The next track "The National Anthem" has a groovy and powerful bassline that Yorke reportedly wrote when he was just 16. This bassline is complemented by fast and syncopated drums and a powerful horn section that sees them fight in a battle for control in a way.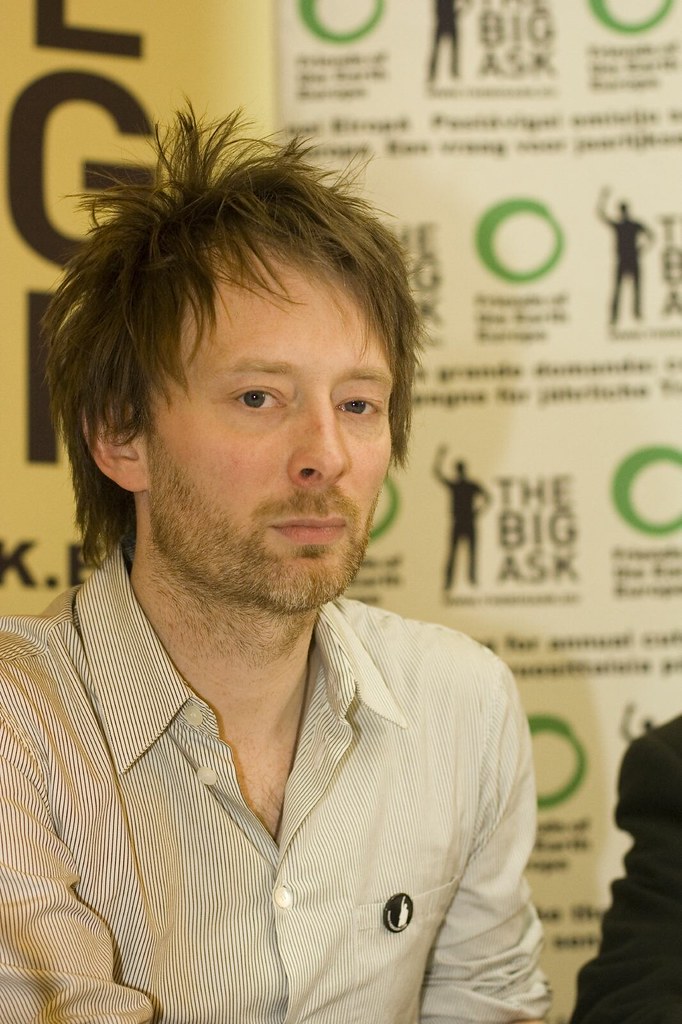 During Yorke's period of depression, he was struggling a lot in life, R.E.M.'s Michael Stipe came to Yorke and told Yorke to tell himself "I'm not here, this isn't happening," this advice became the chorus of the track "How to Disappear Completely." This track goes through thoughts of denial and rejection. Many fans interpret the lyrics as Yorke's utter disbelief of what he is seeing in a dream, wishing desperately that he can stay in this non-existent moment forever, but having to come to terms with the fact that he'll never experience anything like it again. The song is complemented by Yorke's stunning and beautiful vocal performance, which many consider being his best to date.
The following track "Treefingers" is an instrumental piece, with soaring strings and synths that make you feel like you're flying through an empty and desolate landscape. This transitions into "Optimistic," the closest we get to a "normal" Radiohead song on the album, with distinct guitars, driving drums that get more intense as the song goes on, and a beautiful final chorus. After this is "In Limbo", with a repetitive drum pattern that manages to never get annoying.
"Idioteque" simultaneously feels like both a tightly tuned machine with a driving drum pattern that makes you want to move your body along with the beat, and an empty wasteland with only fragmented memories of what once was, with beautiful synths flowing throughout the track. Then Yorke's vocals come in, filled with emotion. 
"Morning Bell" builds up its synths and drums throughout the track, leading to a breakdown within the last minute of the song filled with distorted vocals and louder, faster drums. This leads to "Motion Picture Soundtrack", which features Yorke's amazing vocals, complemented by horns, windchimes, synths, and strings. The album closes with "Untitled", a very short song that feels empty whilst filled with synths.
Kid A was an unexpected project from Radiohead, defying all expectations for the band, yet managing to blow people away with how innovative and beautiful it was. It changed people's perspective of what guitar-based rock is. If you like genres like rock, EDM, or anything electrical-based, you'd love this record.
In my opinion, Kid A is a fantastic album, truly a timeless masterpiece that music enthusiasts should definitely give a listen if they somehow haven't already. 10/10.