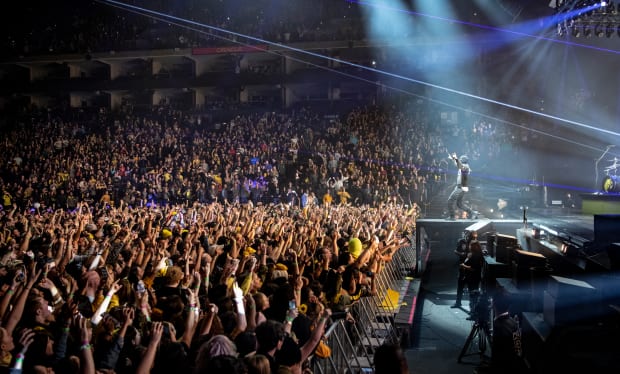 Courtesy prosoundnetwork.com
Chardonites, here are some spectacular Northeast Ohio concerts to get into this fall. First off, an interview with the head sound engineer of Twenty One Pilots, Kennith Sellars. Columbus indie rock duo Twenty-One Pilots consists of Tyler Joseph and Josh Dun, who are right smack in the middle of their Trench tour. Sellars is the front-of-house sound engineer, which means he works on mixing all the audio the audience rocks out to. I recently interviewed him via Instagram.
Why did you get into the music industry? "I love music and it seemed better than a 9-5 job."
What's the everyday like? "I'm a Front Of House Sound Engineer. I control all of the sound you hear coming out of the PA. As for day to day life, it's a little like Groundhog Day. If everything goes well, you do it exactly like yesterday. Most of the time you wake up in a new city and finish work without fully paying attention to where you are. "
What inspires you to keep at? "I'm passionate about it.  I've grown to love what I do so much over the years (14) that it doesn't even feel like a job. "
How do you make it in this tough as nails occupation? "Lots of sacrifices, and I don't mean the goat kind. Pretty much plan on most every relationship you have an ending because you're never home. Don't even dream of getting a full night of sleep and forget about that diet you were planning on sticking to. If that sounds great, then you can make it for the first month . As for how I deal with it. Positivity, passion and surrounding yourself with people that are of a similar mindset."
What is your favorite part of your occupation? "My favorite part is meeting new people in new places and learning about the differences across culture, education, food and music."
Favorite band? "Unfortunately having a favorite artist/band doesn't usually revolve around the music anymore. It's about how they treat the people around them."
Where are you based and how old are you? "Nashville and I'm 33."
What did you do in high school? "I was in theater and theater tech in high school."
What other bands have you worked with? "Shania Twain , One Republic, Dierks, Bentley, Ariana Grande, Justin Bieber, etc."
Anything else you would like to mention to the high schoolers at Chardon? "This industry is not for the faint of heart. The ups and downs swing so much farther that you can ever guess. It's nowhere near as glamorous as it sounds and yet sometimes you can wind up some crazy places doing things you could never afford. It's also not a job that helps you in society. We live such a different life that relating to "normal" people can be difficult."
Kennith is currently on tour with Twenty One Pilots, bringing their brand of indie rock to cities around the country.