CHS Drama Seniors Direct One Act Plays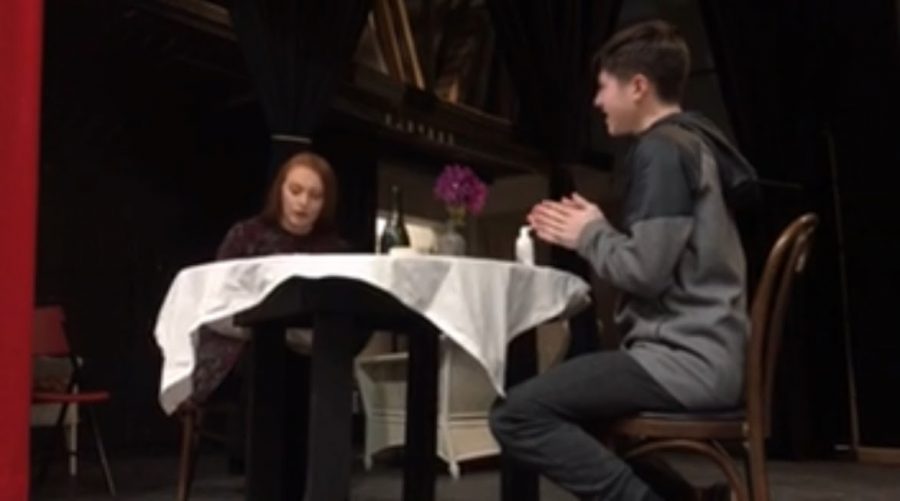 Kaitlin Ryan
January 23, 2018
Many young actors and crew members of the CHS drama club await their entire high school careers for this moment: taking the reins and directing their own production. This is quite a time commitment and challenge for the senior directors, but they know what it takes create a spectacular show.
On January 26th at Park Auditorium, the CHS Drama club is hosting their annual senior-directed One Act Plays. This year, four different productions are being showcased: "Beauty and the Geek", "Cut", "Check Please", and an original production by Asher Vokoun, "A Shift in Perplexity." The work that goes into producing a One Act goes far beyond the additional drama club duties.
"Beauty and the Geek" is being directed by seniors Katie O'Linn and Hannah Tice. The two found the script online, and received permission to edit it and make it their own. O'Linn says, "Beauty and the Geek is about a high school student who has been blinded by social standards and popularity." She goes on saying, "it is a heart filled drama filled with endless laughs and smiles."
O'Linn attributes her motivation to direct a One Act by saying, "It's my senior year…directing a One Act is a lot of work, but I wanted to leave this year knowing I did everything possible to make my senior year great for me."
"Check Please", directed by seniors Cameron Peters and Sarah Eisenhart, is a laugh out loud sketch about the hardships of dating. Eisenhart explains her inspiration for choosing to direct this play, "We  picked Check Please because there is a lot of diversity in the personalities of the characters…it gives them[the actors] a chance to have fun and act crazy."
The remainder of the One Acts are being directed by Connor Prusha and Casey Fisher["Cut"] and Asher Vokoun's "A Shift in Perplexity." Vokoun will also be directing his own original play, Slydin, as a senior project. The production will be showing in early May.
If you want to laugh, smile, and see Chardon High's very own directors, playwrights, and actors perform heartwarming and hilarious skits, then come to One Acts on January 26th at 7PM in Park Auditorium.