The One, the Only, the Chardon Crazies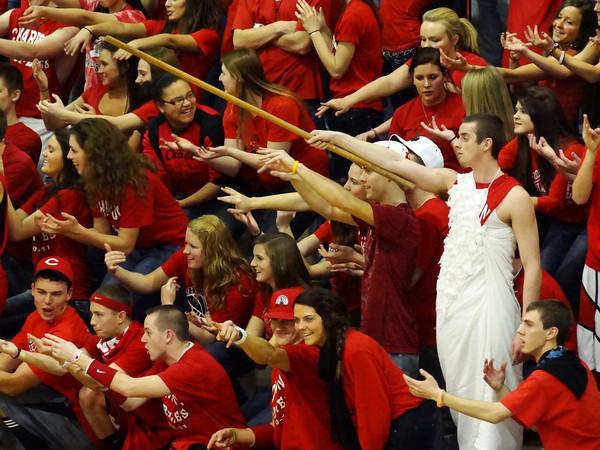 Hang on for a minute...we're trying to find some more stories you might like.
What do you come to the Chardon basketball games to see? Of course you come to see the basketball team, but the newest fans favorite the Chardon Crazies. The Crazies have grown in size every year since Scott Taylor founded the group in 2008. This is an organization of students who are crazy about Chardon sporting events. At each home game for football and basketball, the Chardon Crazies come out in huge numbers and blow the roof off of the house. Junior Reilly Hawkins said, "[It] gives the Toppers an advantage. It really is cool to see all of the students doing the same thing. It is really exciting watching a halftime show, such as the roller coaster." There have been record setting crowds this year by the students being a part of the Chardon Crazies.
This year, the Crazies have made going to home football and basketball games major events for students at Chardon High School. Even other schools have commented on the Chardon Crazies and their craziness. All the other schools dread coming to Chardon just because of the Crazies.
They always are out supporting our teams no matter what the weather is that day. Rain or shine, the Crazies will be at all home football games. With their vuvuzelas held high in the air, they are always ready to go.
The meaning of being a part of the crazies is great for some people. All of Chardon knows about the crazies and everyone wants to be a part of it. "To be a part of the crazies is like being a part of something so much bigger than just a student section. When we're in the stands we become one big family supporting our teams," said senior Ashley Karcic.
"It brings unity to all the students who don't play. It gives you a chance to show your inner self. CC4L!!!" said senior Evan Erasmus. The Chardon Crazies are one big family. They all are friends and get along very well. It's a thing to be proud of. Matt Leskovec said, "It can't be put into words…We just Topper up!"
The crazies have been in newspapers, on Fox 8, and raised money for a cure for breast cancer. The Crazies raised over $2,900 after selling "Crazy for the Cure" pink Chardon Crazies shirts to the students in the school. These students are great role models for the school and in general. The Crazies are not just a student section, but one big family.